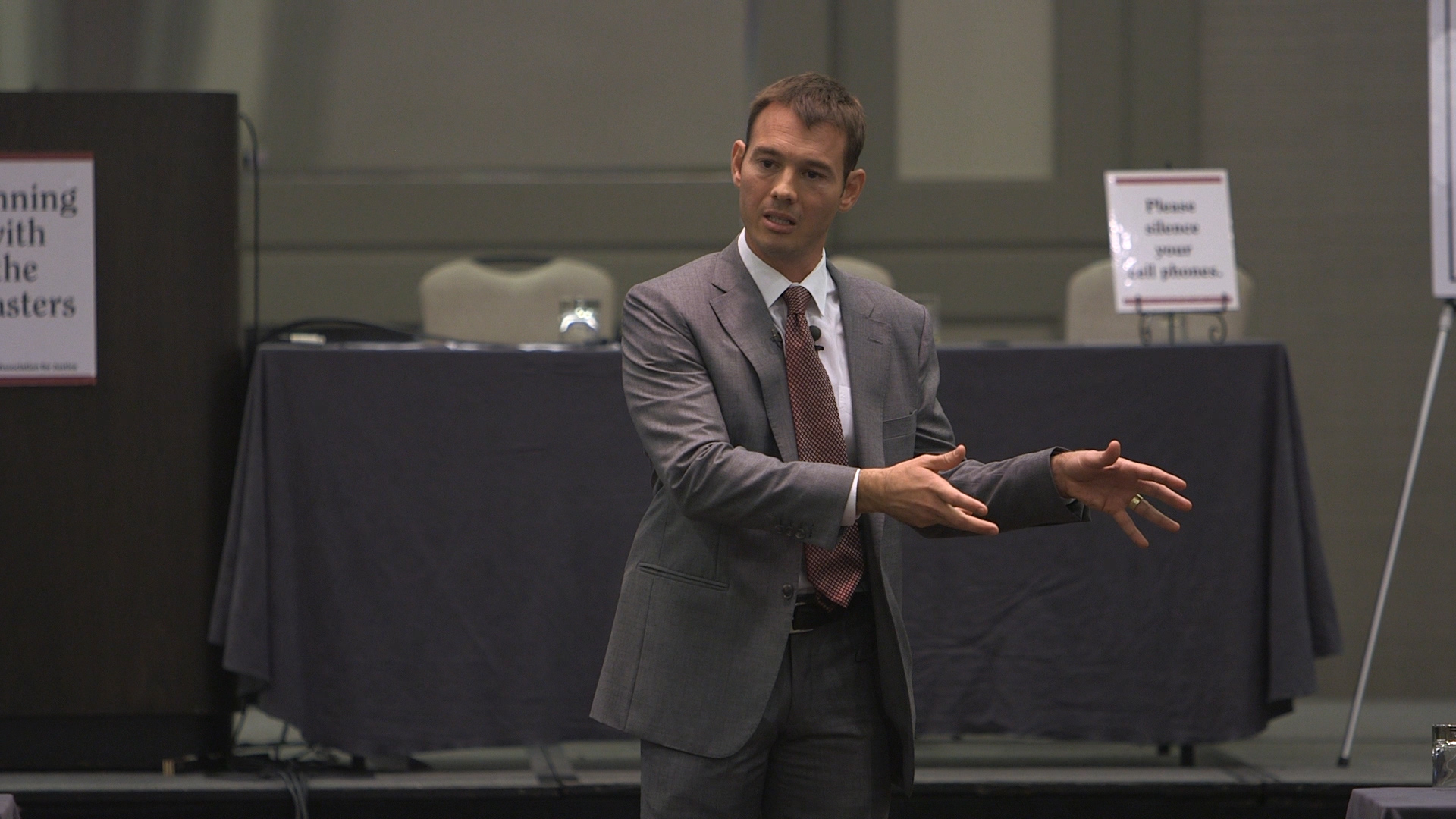 NICHOLAS ROWLEY
"Being a trial lawyer means dedicating oneself to standing up for the rights of people, never selling out, and caring about truth and justice. My clients are family to me. I give them my all."
Many consider Nicholas C. Rowley to be the most accomplished trial lawyer of his generation. He has extensive courtroom experience representing victims of serious injuries and medical malpractice, especially those who have suffered traumatic brain injuries, spinal injuries, and chronic pain. In 2009 and 2010, the Consumer Attorneys Association of Los Angeles (CAALA) named Nick as a finalist for its prestigious "Trial Lawyer of the Year" award. Nick was also recognized by the Los Angeles Daily Journal for winning a "Top Verdict of 2010" for his $31.6 million jury verdict for the victim of a traumatic brain injury. In 2012, Nick was a finalist for the "Consumer Attorney of the Year" award, given by CAOC (Consumer Attorneys of California). In 2009, the Consumer Attorneys of San Diego awarded Nick its "Outstanding Trial Lawyer" award. In 2013, Nick was honored with the organization's top award – "Outstanding Trial Lawyer of the Year". Also Some of Nick's other recent successes include a record-setting $74,525,000 verdict for a victim of medical malpractice, a $38,600,000 jury verdict for a young man who fell from a hotel balcony while intoxicated, a $17,000,000 win for woman who suffered a mild traumatic brain injury caused by a fall from a hotel window and a $13,860,000 win for a mild traumatic brain injury caused by an automobile crash.
Nick has served as an instructor at Gerry Spence's famed Trial Lawyers College and delivers keynote addresses nationwide on his revolutionary approach to voir dire and damages. Other lawyers, faced with low settlement offers from insurance companies, frequently bring Nick into their cases just before trial. Nick is a relentless warrior who has prevailed in the courtroom time and time again. He prides himself on his caring and empathetic approach to working with his clients and their families, and his ability to help juries find the truth and deliver justice to the injured.
Nick is on the Board of Directors of the Imagination Workshop, which is a non-profit theater arts organization committed to using the unique power of the theater to provide life-changing artistic opportunities to the mentally ill, homeless veterans, senior citizens, and 'at-risk' young people. IW programs give troubled people, frequently alienated or overlooked by society, a safe way to express themselves and gain insight that often helps make their lives more successful.
Nick is also on the Honorary Board of Governors of TLC, Los Angeles Trial Lawyers' Charties, a non-profit organization whose purpose is to make a positive difference in the quality of life for people within the greater Los Angeles area, focusing on issues related to education, children, battered women, persons with disabilities, and homelessness, by providing financial assistance to needy persons and groups in the greater Los Angeles area.
Nick is the author of the book Trial By Human, where he candidly shares his approach that brings brutal honesty and humanity into the courtroom.
COURTNEY ROWLEY
Courtney is a uniquely skilled and dedicated Trial Lawyer with tens of millions of dollars in verdicts and settlements. She is one of a kind. She tries only select cases and handles a few at a time so that she can give the caring, detailed attention that she believes is necessary to achieve the best results for injury victims and families.
Courtney has been trying cases non-stop since the beginning of her career. She is known nationally as a trial skills instructor and teaches as a faculty member at Gerry Spence's Trial Lawyers College in Wyoming. She is licensed in California, Wyoming, and soon to be licensed in Iowa and Minnesota.
Courtney began her career in criminal defense and transitioned into personal injury as a solo practitioner five years ago. She chose to make less money and not take a job with one of the top law firms in California because she wanted to be in a courtroom doing trials and not doing law and motion behind a desk.
Amongst her many successes, one of the wins Courtney is most proud of is a case where she was brought in by a top law firm to represent a 9 year old boy who lost his leg after being hit by a truck. The police report blamed the boy completely, saying he darted out between parked cars on his skateboard. Courtney turned the case around and days before trial won $18,600,000, the largest settlement in history for a personal injury case against the City of San Diego. Courtney has won multiple seven-and eight-figure victories at trial. She credits her successes to her beginning as a criminal defense lawyer, her training at Gerry Spence's Trial Lawyers College, and also to her extensive training prior to ever taking the bar exam. In that regard, Courtney started competing in moot court in middle school and high school. She won multiple awards, but most importantly, gained invaluable foundational experience being on her feet in courtrooms.
Courtney attended Loyola Law School and led their infamous and highly competitive moot court team and won the National Trial Competition, the Super Bowl of trial competitions, hosted by the International Academy of Trial Attorneys.
Courtney spends immense amounts of time preparing and spending time with her clients and their families. She becomes a part of their lives as they do hers. This is how she learns to understand and translate the pain, suffering, and human losses to juries.
Courtney's mission is to continue her service as a trial lawyer and help train and educate other lawyers and judges who are willing to learn and commit to bettering our system of justice and jury system.
Courtney and her husband Nick are known as a trial team as they try most of their cases together. Nick credits Courtney as being the lead trial lawyer in many of their cases and anybody who watches them together in trial knows this is true.
Starting in middle school, she worked and earned an opportunity to travel overseas. Since that time Courtney has been a world traveler, having extensively traveled every continent except Antarctica. She is dedicated to the practice of yoga, healthy eating, and being a mother.
ASHLEY PARRIS
Parris has spent her entire career as a trial lawyer fighting for those whose lives have been changed by the wrongdoing of others. Ashley spent six years as a trial attorney at the R. Rex Parris Law Firm, litigating catastrophic injury cases, with a specialty in pain syndromes. She then joined Inner City Law Center where she was the Supervising Attorney for the Slum Housing Litigation Department. Parris was recognized in 2011, 2012, 2013, 2014 and 2015 as a Rising Star and in 2016 as a Super Lawyer by the Daily Journal. Parris is a member of The Consumer Attorneys of California and Consumer Attorneys of Los Angeles, and a Past President of the Antelope Valley Bar Association. Parris is also on the faculty of the Gerry Spence Trial Lawyer's College. She frequently lectures and teaches on trial techniques and advocating for clients with pain syndromes. Parris devotes much of her practice to helping clients who suffer from chronic pain and is considered a specialist in trials involving pain syndromes.
Haytham Faraj
"Trial is combat. It is not a civilized competition, a sport like activity, or a gentlemanly undertaking. It is a war for survival. To prevail the trial lawyer must possess the physical abilities, the mental acumen and the agility of a warrior engaged in a fight for survival."
Haytham Faraj's path to becoming a trial lawyer began as a Marine Corps infantryman and later a Marine Corps infantry officer. If being a trial attorney means fighting for the rights of those who cannot fight for themselves, then Haytham has been waging that battle his entire adult life as a military warrior and now a trial lawyer.
Haytham has tried some of the most legendary cases of the last decade. He was the lead trial lawyer in the case of United States v. Frank Wuterich, a case the became known worldwide as the "Haditha Massacre." Haytham represented the Marine squad leader who was accused of nineteen counts of first degree murder in the most famous war crimes trial since My Lai. The story became the basis for the book "No Time For Truth." Haytham was also the lead trial lawyer in the case of United States v. Trent Thomas, another war crimes case that achieved international notoriety. He acquitted his client who was freed after nearly two years in jail awaiting trial. Among his other notable victories include the acquittal of a man accused of spying for Saddam Hussein; the recent acquittal of a man accused of illegally exporting U.S. Defense Articles to South Sudan; a 2.2 million dollars verdict on a zero offer that was tried in the U.S. District Court for the District of Columbia; and the acquittal of Navy Seal Matthew McCabe who was accused of war crimes. Haytham has tried more than eighty civil and criminal trials in the last ten years. (read more)